If you have been following my work over the years, you already know that I'm a big champion of what I have come to call The Learning Moment. What is The Learning Moment? In short: "Positive or negative outcomes from any situation that need to be openly and freely shared to benefit all." Granted, when I first started developing the concept, over 20 years ago, that exercise was in the context of garden variety world chaos. There is always something going on. If we wait until global conditions settle down before we give ourselves the chance to think clearly and philosophically, that quality of elevated strategic thinking will never happen.
We have to cogitate on the fly. That's leadership. That's modern life.
But no one could have predicted the level of chaos and uncertainty that began its slow roll in the early months of 2020. The changes initially presented themselves as simply cancelled flights and meetings around the world. But they rapidly picked up steam so that it wasn't long before the most common sound to be heard continent by continent was the sound of home front doors being closed for an uncertain duration. That silence coming from morning driveways in suburbs the world over? That was the sound of cars not starting up for their morning commutes.
Our Learning Moments were coming at us on blast. In the C-Suites around the globe, some of us focused on the question, "What do we do now?" Others of us focused on, "Who are we now?" Others of us focused on, "How do we decide what to do based on who we say we are and who we want to be when all of this is over?" I suppose I was in the last group. Still am.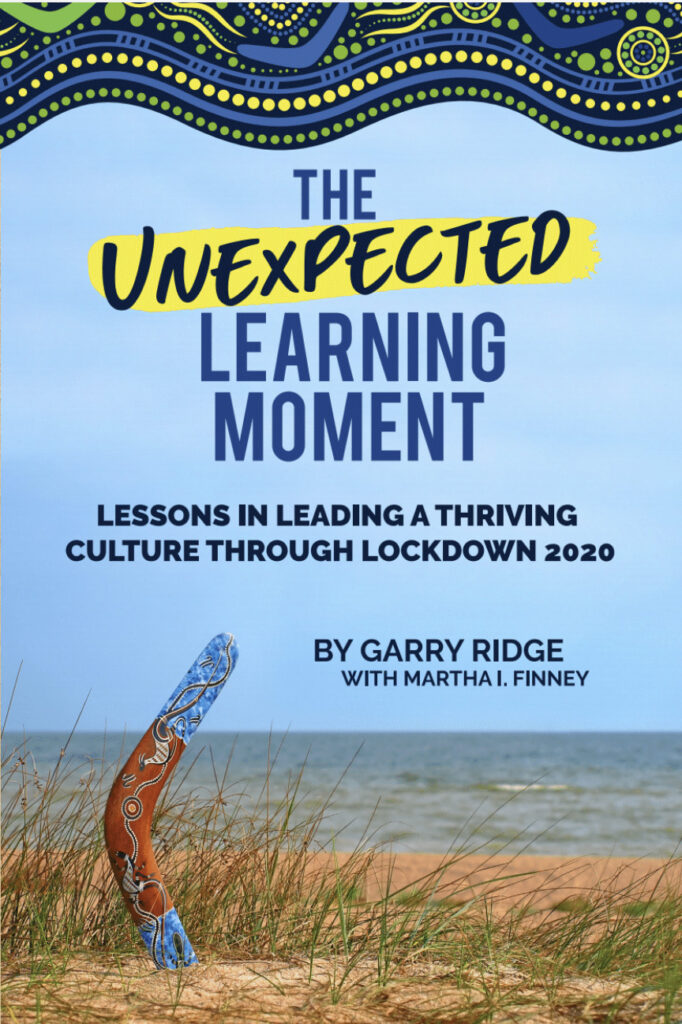 I used to refer to that scene in Raiders of the Lost Ark, where Indiana Jones is being chased by a looming, rolling boulder towering over his head. The audience doesn't know for sure what might have happened had the boulder caught up with him. But one thing we knew for sure:  It wasn't going to be good or pretty if Indy lost that race. Needless to say, I thought of that scene frequently as my WD-40 Company team stayed well ahead of the rolling boulder of doom.  It just felt like it was on our heels. Almost all the time.
It's during chaotic times like these that, once we have the chance to breathe and reflect, we look back and wish that we had kept notes. Or a journal. Or something. But we didn't because we were too caught up in the chaos to think of switching our computer from Zoom to Word and put down our thoughts. Who has time for that?
This is one time I made time.  And I'm so grateful that I did.  The result? A small volume I've entitled, The Unexpected Learning Moment.  If you've been following my blog posts or Linked In articles, you will have read this material already. But blog posts and Linked In articles are something like Post-It squares. They're great for capturing the thoughts in real time. But eventually, if you're not mindful of the scatterings of tids and bits, these things have the tendency to get lost. Or buried under other random pieces of paper, posts, and thoughts of lesser consequence.
Our experiences leading the world through an unprecedented time deserve to be captured. And set aside, packaged and preserved for organized access as the ensuing months turn into years that lead to the question, "Do you remember when…How did you handle that?"
And so I packaged up my experiences and reflections in The Unexpected Learning Moment.
Will you read great pronouncements that will endure in relevance like the Magna Carta?  Doubtful. But the essays within will combine to tell the story of one CEO, leading a company he loves with the tribe he loves, in real time. And, in the spirit of love, I used this opportunity to dedicate The Unexpected Learning Moment to the man who taught me about love in the tribal community of the workplace: my inspiration, teacher and friend Ken Blanchard.
I'm tempted to say that by the time you read the last chapter, you will read the words of someone who is still in the middle of the journey at the time when it was written. And he had no idea how this story would end. Truth be told: I still have no idea how this story will end. And I wonder if the Covid saga will ever wrap up in a tidy, happily-ever-after kind of way. I expect it won't.
But, in the meantime, I've determined that the time has come to call the collection complete and gather up my thoughts in this small, humble book.
You may choose to read them online as blog posts. Or you may choose to order the book, to have them all collected, edited and organized in a single place. However you would like to capture and keep these thoughts, I hope you will find them useful as you venture into our next iteration of, "What the heck do we do now?"
And next time? Please keep a journal! I want to learn from you too.
READY TO GET STARTED?
Get in touch
Send a message with any questions you might have about reaching your workplace goals.